This article explains how to install the Hantek 6022BE.
I have confirmed that the method in this article works on both windows 10 and 11.
Assumption: Software installation is the last thing to do.
Please note that if you do the software installation first, you will not be able to use the software without the uninstallation process described below.
Connect the Hantek 6022 unit to the PC
First, we need to install the driver, so we need to connect the Hantek 6022BE to the PC, a bus-powered USB device.
Install the driver
You can do either of the following
I took method B.
A)Download automatically by right-clicking from Device Manager.
B)Download the driver from Hantek's website and apply it.
Install the driver for the 6022BE from this site.
Click Download and scroll down to the bottom to find the following driver and download it.

If you have done A or B correctly, you will get the following pop-up, select Install.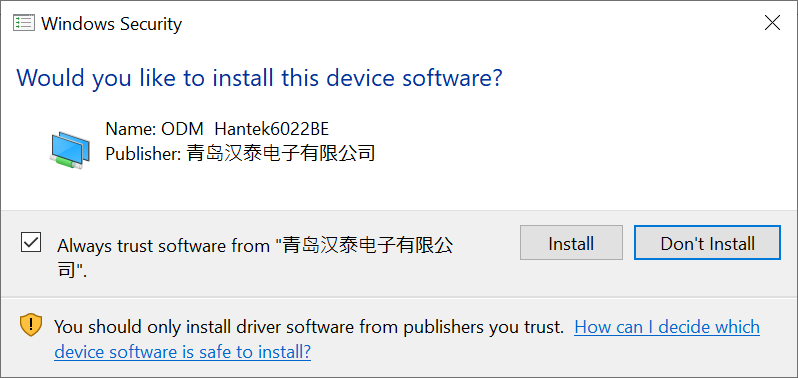 Please note that you will not see this pop-up if you have already installed the software before doing this.
After selecting Install above, the LED lamp on the unit will blink when it can successfully communicate with the Hantek 6022BE.
Install the software
Download the software from this site.
Execute the following "Setup".
Once you have executed the above, you can use the oscilloscope successfully. That's it!
What to do if you have installed the software first
If you have installed the software first, you will need to uninstall it and delete the extra files.
You can uninstall the software as usual, but there is a file called Uninstall Driver.pdf in the folder you downloaded when you installed the Hantek driver, so follow this manual and do the following.
Specifically, delete the following files stored in the folder C:/windows/inf.
1)Files beginning with "oem"
2)Oxxx1.SYS, DSOxxxx2.SYS